Pay by Space Stations
ECU Parking & Transportation offers multi space station technology for short term parking.  We have 7 Pay by Space stations located on Main Campus and 3 on the Health Sciences campus.  All of our Pay by Space Stations can also be paid through utilization of the Parkmobile Application.
---
Locations

Main Campus
College Hill north of Scott Residence Hall (10 spaces),
East of the Rivers Building (13 spaces),
At the corner of 5th Street and Harding Street (45 spaces),
The lot between Jenkins Fine Arts and the Garrett Residence Hall (13 spaces),
East Campus off Reade Street South of the Willis Building (13 spaces)
South of Carol Belk Building (2 spaces – Parkmobile Only)
Athletic Complex/ West of Minges Pool (13 spaces – Parkmobile Only)
Health Sciences Campus
Brody building in SM-1 (19 spaces),
In the B4 lot by Laupus Lake close to the Allied Health Building (18 spaces),
The School of Medicine and the Student Recreational Center (21 spaces).
---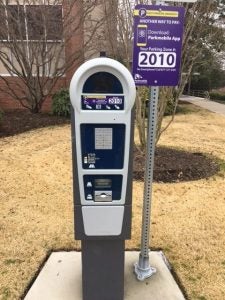 Acceptable Forms of Payment:
Cash
Credit Cards
Debit Cards
Parkmobile
Telephone (877-727-5301)
This machine does not accept coin, American Express, or Discover
Time Limits
$1 = 1 hour
4 Hour Maximum Time for all Zones
---
How to Use the Pay Stations
Each space within the lot is numbered, and each number is referred to as the space's "stall". Once parked in a space, the user will simply go to the pay station and follow the directions posted on the signs conveniently placed on and alongside the station.
Pay by Space Instructions at the physical Stations (not via Parkmobile app):
To Activate the Machine, press the OK button.
Enter the stall number that your vehicle is located in. The number is located on the asphalt in each parking stall.
Choose either:
Purchase Ticket – This is if no previous time has been purchased.
Add More Time – This is adding time to a current purchased amount of time. The overall time will not exceed the 4 hour maximum time for that Parkmobile Zone (PM Zone) as indicated in the time limits listed below.
Add Dollar Bills or a credit card for payment method. Specifically, the machines accept bills, Visa, and MasterCard Credit Cards.
Receive Receipt